Promoting archery
in the state of Ohio.
established 1889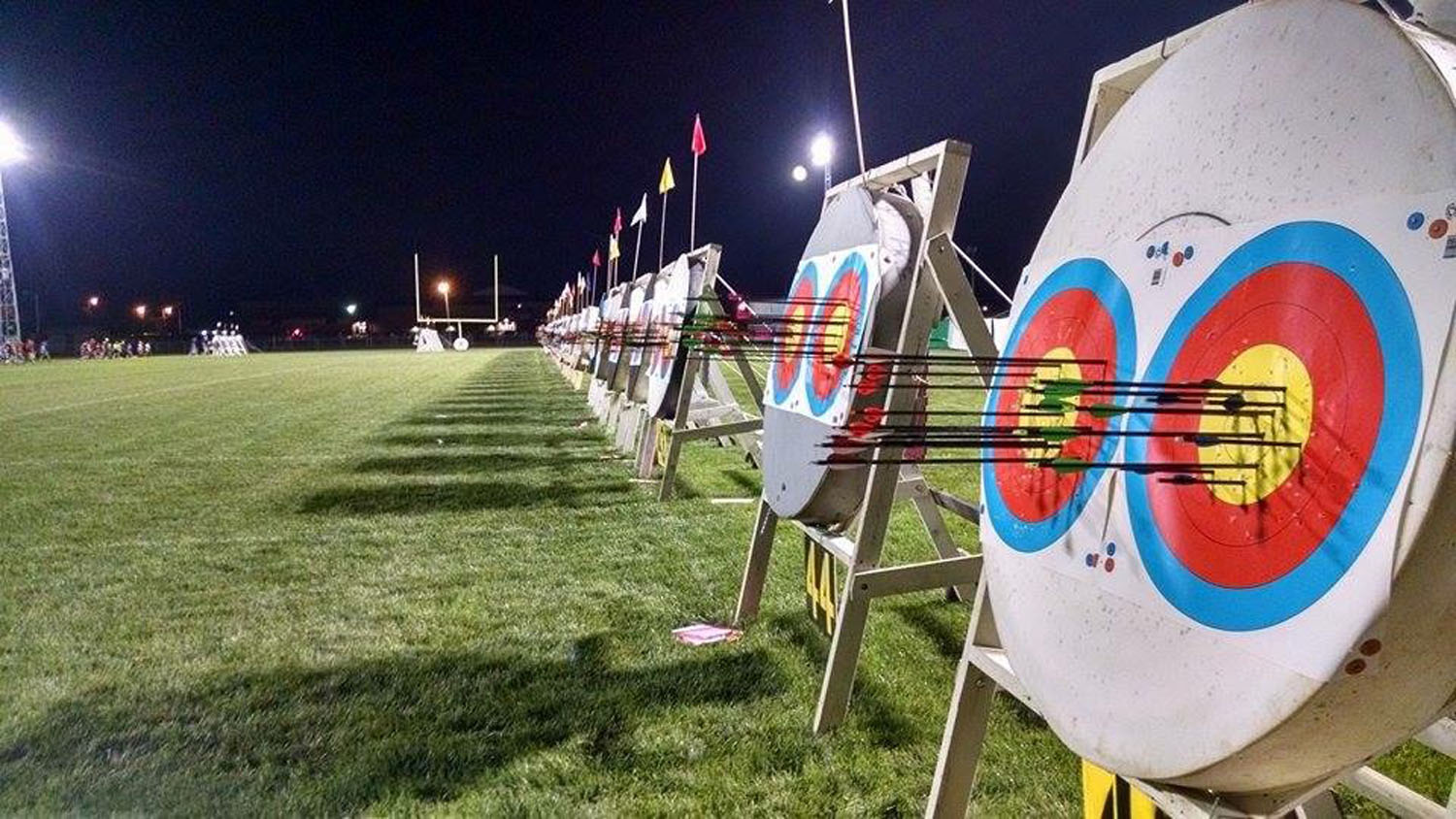 Please register online even for mail-in events.
2018 Vegas 450 Mail-In
Event Date: February 1-4, 2018
Check what tournaments you have registered for by going to our Tournament Registration Lookup page.
For a complete list of upcoming events, see our events page.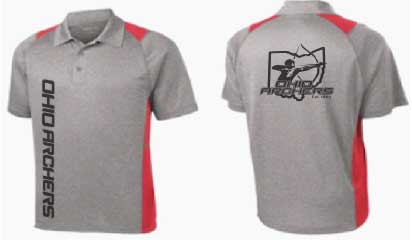 Members Shooter Shirts
For a limited time, we're offering OAA Member Shooter Shirts for $30.00. They are Sport Tek polo in Vintage Heather / True Red in sizes XS (for kids) to XXXL. They are direct printed/soft hand finish imprint. The imprint is in soft black 2 sides as shown.
Adding personalization of first & last names is not an ordering option. Ohio Archers will place the order after we receive orders for 12 or more shirts (there's a 12 piece minimum).
This is a pre-order item only and won't be available at the shoots. Payment is due at the time you place your order, payable via PayPal / Check / Money Order. Shipping is an additional $10.00. If ordering for an entire group, 25 pieces or more, a special shipping quote can be provided prior to payment.
Once the minimum order is met, please allow 3-4 weeks for production. If you have any questions, please email: lori@ohioarchers.com. You can download a form for order these shirts here.
Latest OAA News
Trophy Room. We added a new section where OAA members that love to hunt can show off their hunting skills and harvests. If you had a great hunt that your proud of then send a photo with a brief description to and we will get it posted on Facebook and our 'Trophy Room' section of the website. Have a great day in the woods.
A final thought for 2017 from the webmaster and the directors of OAA ... it was a great year (fantastic events and venues, record attendance, lots of great shooting with lots of great laughs) and everybody who participated in the events, helped with the events, and donated their time all deserved a great big "THANK YOU." Without your continued support, this state chapter would not be possible. We have our 2018 schedule worked out and posted. 2018 is going to be even a bigger, better year!
Become an OAA Affiliated Club
Have you ever considered having your club/shop become affilated with OAA. There is lots of benefits to it. Take a second and click this link to read what it takes to become an affiliated club and the benefits for you shop or club.
Become an OAA Sponsor
Have you ever considered sponsoring an OAA tournament? There are several ways you can sponsor one of our four statewide events. This link has all the information on individual event and archery season sponsorships. With our tournament attendance growing by over 32% every year, this is a great way to reach serious archers and to help an organization that has been promoting archery in Ohio since 1889.
2017 Shoot of the Year
Devan Kobak

AFBHFS

Beverly Stambul

AFFS

Cameron Freed

AMBHFS

Marc Barr

AMFS

Eliza Isgro

CFBHFS

Logan Urban

CMBHFS

Dustin Bounce

PMFS

Mark Dabney

SMBHFS

Gary Smith

SMFS

Jeff Apel

SSMFS

Molly Wade

YAFBHFS

Jacob Valentini

YAMBHFS

Baylee Deer

YFBHFS

Brock Hillyer

YMBHFS

Garrett Warnock

YMFS
OAA Registration/Payment System
Mail In Events
Register online and bring payment to host club the day of the event
Statewide Events
Register and pay online (Paypal or Credit Card) up to 48 hours prior to tournament.
Register online, print the form and postmark it with payment up to seven days prior to tournament.
Once registration AND payment are received, you are registered.
First come, first served unregistered archers will be registered at the shoot.

An additional $5 fee will be charged for day of shoot registration.
All of us at Ohio Archers hope this creates a more enjoyable tournament season. Looking forward to seeing everyone at the events.
Warmest regards, Ohio Archers